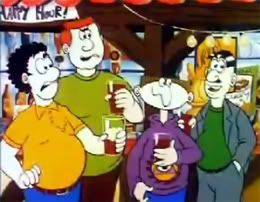 So, I'm standing outside a pub in the summer, chuffing fags and getting satisfyingly mashed with two of my best female friends. And there's a lot to talk about. Both of them have just split up with blokes, one of whom is a good mate of mine. The other is someone I got to know quite well while he was going out with my mate, but I had him pegged as a window-licking twat right from the off - but the point is, I know them both quite well.
And we start to play a game that I've just made up on the spot. I ask them questions about their just-finished relationships, and whoever gives the worst answer gets a point. I call it Whose Ex Was A Bigger Bell-End? I'll need to work on that title before I pitch it to Channel Five, but for now, it'll do.
After the tentative introductory questions, I decide to go for broke and see how much I can get out of them. What's the shittiest present he ever bought you? What are the mankiest pants he owns? What does his come face look like? Not only do they answer all my questions, they suggest new ones. Before too long, I learn the following;
One of them had the charming Saturday morning habit of eating three bacon and egg sandwiches in bed, before attempting to frig his girlfriend off

One of them would routinely look at himself in the mirror whilst receiving a blow job and pout at himself

One of them had an oral sex technique comparable to 'a bulldog with Bell's Palsy

One of them regularly sent phone images to his paramour of his erection and bumhole

One of them regularly pleaded with his girlfriend to set up a threesome with her work colleague (who she hated

One of them would keep a piss-bucket at the side of the bed, because he couldn't be bothered to use the toilet downstairs.
It was when one of my lady-friends said, matter-of-factly, "Actually, I feel sorry for him, because his inability to get a proper erection means he'll probably have a heart attack in his late 30s", when I thought; hang on a minute. I know these women. They're not mad, or hysterical, or malicious people. They're just normal. Like every other woman I know. Including all of my exes. So what the fuck would they be saying about me?
Suffice to say, that first experience of women talking about what they got up to with men was an eye, skull and even chest-opener. I've never heard a man break down a sexual relationship in such detail before, and haven't since.
Now, I try to keep away from the 'women do this, while men do that' school of thought as much as possible. But if there's one instance – the instance – where you can say without doubt that the two genders differ, it's when we talk about sex and relationships with each other. The good news is that most right-thinking men don't discuss sex like the cast of On The Buses anymore. The bad news is that we pretty much don't talk about it at all. Here are a few examples…


After a one-night stand
Chap: Met this girl the other night.
Bloke: Leg-over?
Chap: (raises eyebrow)
Bloke: Nice one. Aren't Liverpool shit at the moment?
Chap: Yeah. (half-hour conversation about Rafa Benitez)
At the start of a relationship
Chap: You know that girl I met the other night?
Bloke: Yeah.
Chap: I saw her again last night. And I'm seeing her again on Friday.
Bloke: (after at least ten minutes of thinking "Well, that's him pissing off for six months, then") Burnout Paradise looks mint, doesn't it?
At the height of the relationship
Chap: She's lovely, Bloke. She's really lovely. You know what I mean? She's one of those girls who you see, and you think "Aw, you're really lovely" and then you get to know them and then you think "You know what? You're really, really lovely". She's just…lovely.
Bloke: Yeah.
Chap: Lovely.
Bloke: I'm going to ring for a taxi, now.
When the relationship starts to go wrong
Chap: Blah blah blah…football…work…computers…how many nipples a giraffe has…anything but relationship…
When the relationship is over
Chap: (Pause. For three months. Before it all rushes out, usually in a pub car park, in a torrent of tears and snot)

Personally, I'm no different. I'll talk about sex and relationships on here until the cows come home, but in public to my mates? I'll just squeeze everything into a suppressed ball of angst and resentment, thanks. It was an entire month before I told any of my mates about the first serious relationship I ever had, and it wasn't until six months after I got cheated on before I could even begin to tell them about that. And that kind of behaviour is not uncommon amongst my male friends at all. We've been conditioned to keep our cards close to our chest, deal with relationships on our own, and not bore our mates with it. I've even been to some of mate's weddings, seen them up there brushing a tear away, and I'm thinking; "Shitting hell fire…he actually really loves her"
So when Sam talks about this sinister cabal of womanhood, he's basically pointing out that the difference between female and male relationship interaction and discussion is currently not dissimilar to comparing the Internet with a frayed bit of string attached to a tin can. A lot of men don't seem to talk about new relationships (for fear of jinxing them), we don't talk about relationships we're in (for fear of being boring, or having the piss ripped out of us), and we don't talk about relationships that are dying on their arse or already dead (for fear of admitting that somehow we fucked up).

I'm not advocating that we all sit around banging drums and crying with our shirts off, but surely there's a better way to go about things. And, while I totally agree with a lot of comments on the forums that all the bullshitty barriers between women and men need to be broken down as soon as possible for the benefit of all, there needs to be some serious demolition work on the barriers that men have put up between themselves.