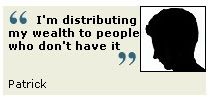 It's not the policy of

Todger Talk

to post over the weekend, but then I saw this article on the BBC News website, commissioned in the wake of the conclusion of the Ipswich prostitute murder trial. If you want to see of how completely fucked-up certain men can get over sex, here you go. On one hand, you want to commend the punters who have been interviewed for their honesty, but you also want to use the other hand to slap the living shit out their ignorant, bell-endy faces.
Patrick, Pete and Mark have some things in common. They are all successful, professional men, who work long hours and have to travel away from home. But what really unites them is that they all use prostitutes and are utterly unashamed about it.
I think we're supposed to be impressed by the fact that they're all professional and successful, as opposed to, say, Peter Sutcliffe.
He (Patrick) does not appear to have a problem leading a double life with his partner. "She doesn't know. I don't believe it's changed my relationship with her in any way. To some extent I feel closer to her.
This was round about the part where my hand automatically rose to my chin. How does nipping out to pay someone to be de-spunked not change anyone's relationship with someone they're married to? Giving up on any hope of a sex life with your missus to order to dip your hand into the Lucky Bag of paid sex with assorted prostitutes doesn't change your relationship with your partner how? More importantly, how does going off to get a gobble off someone in a massage parlour bring one closer to one's partner?
"I don't have to demand things that maybe I was demanding from her, like oral sex and things like that. She didn't like doing that. Now I no longer have to ask."
Ooh. 'Demand'. That's an interesting word, isn't it, kids? Maybe if Patrick hadn't treated a nosh like it was a birthright because he saw someone on a wank video having one, maybe he wouldn't have to be forking out for one. Just a thought.

Management consultant Pete, 40, from Oxfordshire, is blunt about his motivation for buying sex. "I've not had sex with my wife for at least five years," he says. "In simple terms, it's how I get sex. I've not noticed a change in our relationship at all. "There is no emotional involvement [with the prostitutes]. At the risk of sounding cruel and heartless I don't think I do have a moral issue with it. If I did I wouldn't have done it."
Admittedly, he does have a point here; yes, he is sounding cruel and heartless. If you want sex but don't want emotional involvement, maybe sex just isn't for you. If you want an ego boost and can afford it, maybe you should have a wank into a handful of fifty pound notes instead. You'll feel just as good afterwards, and you can run the notes under a tap and put them on the radiator.
Mark says he used to spend a lot of time trying to pick women up in clubs and bars. Now the 31-year-old business consultant from London doesn't have the time.
Well, exactly. Why bother wasting your time talking to a woman like a human being when there's no guarantee of unprotected anal in a car park at the end of it?
Patrick views it as a totally mundane transaction between adults.
So if it's mundane, why are you doing it, you fucking gibbon?
"I see us as adults. I want to pay and someone wants to sell. As long as I'm not hurting them in any way what harm am I doing. I'm distributing my wealth to people who don't have it."
Well, that puts a new spin on 'trickle-down' economics.Yes Patrick, all of these women desperately wanted to grow up to make a living by sucking on some sweaty, half a century-old IT spod-cock. Presumably, this twat also thinks that, by racking up another line of Wanker Powder on a toilet seat, he's helping to put a Playstation 3 in the hands of some poor Bolivian urchin.
Pete suggests the world of street prostitution is "probably the grubbiest, grimiest bit". Patrick says he is not tempted, saying it is "risky and not comfortable". Mark's view is also revealing: "There is a slightly exploitative element to street prostitution."
Lovely bit of snobbery here. It's a bit like viewing child porn in an ornate frame in a country mansion, and looking down your nose at people who watch it on the internet.
"There's always a lot of girls that I know," says Patrick. "We have a good camaraderie. I treat them as my friends and I feel to some extent they confide and talk to me."
THEY FUCKING HATE YOU, PATRICK. THEY LAUGH AT YOUR SONIC THE HEDGEHOG TIE, AND IMITATE YOUR GURNING PIG-MASK OF A COME FACE ON THEIR FAG BREAKS.
Mark's position is clear. If he did meet a woman he suspected was trafficked he would do something about it, there and then.
What, you're gonna s
lither down the Bat-Pole and mash down assorted Albanian henchmen with obligatory POW! and BIFF! effects?
The real root of prostitution is in the economic system and not the criminal laws, says Patrick. "There are a lot of single mothers who feel that's the only way they can make money. If you want to get rid of prostitution the way is to reform the welfare system."
;oijhffrghfhwoee88e ur e9e e eduhfhfdhufhfo84 lkgf09 fdsszsz hfjfddipoijduihddiojdo;d hdiddigydgydio8
(That was me bashing my head against the keyboard over and over again)
Should prostitution be legalised? Course it should. Should shit-thick ignorance be criminalised in its place? Hell yeah. These deluded nob-ends seem to be living in a world where the women loll about on beds in fluffy mules with fruity foreign accents, capitalising on the cow-like frigidness of the local womenfolk by earning a nice bit of cash for their dear old Mams in Potatovia in a sexy, sexy way until Richard Gere comes along, and pimps are evidently crazy funsters with big Afros, that's all.
According to the BBC, one in ten men currently use prostitutes. And you can forget the traditional myth that they're all henpecked old men scurrying away from a hatchet-faced missus brandishing a rolling pin; most of them are single and in the prime of their lives. Let's abandon this ludicrous pretence that it doesn't happen, but let's also junk the even more ludicrous pretence that the Pavlovian urge of 10% of the male population to have their genitals joylessly milked in a room above a garage in the scabby end of town by someone who needs fast cash is anything other than a fucked-up situation.