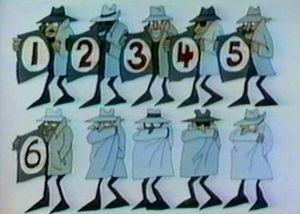 There's a mild frenzy of knicker-sniffing and elbow-nudging conducted by the media over the new leader of the Liberal Democrats at the moment, and his blurting out of how many sexual partners he's had. So, if you don't mind, I'm going to barge in and have a bit of an inhale of the News-Gusset, as it gives me a great opportunity to expand upon a subject I wrote about for Cosmo earlier this year; the magic number. Let's get it out the way early; mine is 39. Yes, exactly; none of this 'high thirties' or '36 to 40' bollocks. I remember them all, from No.1 (student halls of residence, Isleworth, Van Morrison on the stereo) all the way to No.39 (my house, Nottingham, flatmates were eating a curry in bed upstairs and the cat was howling outside to be let in). It'd be rude not to, wouldn't it?
Problem is, more often than not, I can drop that number in conversation and people will refuse to believe me. Some people – mainly my mates who got married at 17 and are convinced that there aren't even 39 women in the world who actually have sex – think I'm bullshitting. Other people – who know that I spent a huge chunk of my life in London knocking about with porn models and worked for two years as a part-time male stripper – think I'm lying, and that its way higher.

The moral of the story: like that other great personal factoid, the first record you ever bought, it almost doesn't matter what the answer is; no-one is going to believe you. Yes, we're going to nod while you tell us you've slept with over a hundred women and you bought Anarchy In The UK months before anyone else knew about Punk. But inside, we're thinking "Bollocks have you, and I bet it was summat by Showaddywaddy"
Here's the thing about Magic Numbers; there's no right answer, but hundreds of wrong ones. Reason? Men automatically assume that a female of approximately the same age will have a vastly higher strike rate than he, because your lot have far more opportunities to pull than us. Too low, and he'll assume you're a commitment-freak, or inexperienced (and therefore possibly rubbish in bed), or you're rounding down. Too high, and he'll be edging towards the door and wishing he'd double-bagged himself. And he'll still think you're rounding down.
So what's too high and too low? Well, that's the other thing; it differs from bloke to bloke, and being the spods that we are, one single number doesn't even begin to tell a fraction of the whole story. We demand a far more complicated formula that factors in age (obviously), location (because you assume someone in London has had more opportunities to put it about than someone in, say, Ludlow), and frequency in a certain time span. What we really need is a Powerpoint presentation, preferably with graphs and pie charts.
Let's go back to my number, for example. When I was 21, my number was zero. Seven years later, it was two. Four years ago, it was 34. Today, its 39. By looking at that, you get a fuller picture; a late developer who eventually had a huge relationship, went on a shag rampage to get over the end of said relationship whilst living in possibly the biggest one night-stand city in the world, and then calmed down considerably after moving back to the provinces. I'd sooner have any potential partner know that than a cold, faceless number.

And this is precisely the reason why the Magic Number sucks; it compresses a lifetime's emotional history into a few digits. It gives equal value to the four-year commitment when you talked about having kids and you liked her parents, and the random drunken romp with someone who you didn't catch their name when you were feeling a bit sorry for yourself, it asks more questions than it answers, and it shouldn't matter. One of the happiest, most secure people I know has a magic number of one. Not because he's minging, or socially inept, or sexually incompetent – because he fell in love with the right partner, and has never seen a reason to go anywhere else. When I get as lucky as him, and meet the right partner, I won't give a monkey's wank if I'm the first, the seventh, the nineteenth, the forty-eighth, or even the two hundred and twenty third sexual partner she's had; I'll want to be the last.