So what is it about blokes and their arseholes? Yes, so a lot of us may be more open to anal play these days, as long as it belongs to someone female. When it comes to our own ringpieces, we're not so keen. Sadly, some of us still automatically assume that Bumhole Love = Gayness, while others muse over the possibilities, take into account the masses of nerve endings packed around the jacksie, but then consider the fact that, well, that's where bobby comes out.
Ugh
.
Speaking as someone who has been
starfish intacta
since a doctor at the City Hospital put a gloved finger up there on the day of the
1975 Grand National
(I was only in for a stomach ache which went away that day, but I faked it so I could stop overnight, because I fancied one of the nurses), I fell firmly in the latter category. But then I thought, hang on; I'm in possession of something – a prostate – that has a 10% chance of killing me at some point; maybe I should get as much fun out of the bastard while I can. So when the
Rude Boy prostate vibrator
dropped through the letterbox, I prepared myself to cast my arse-virginity to the wind. After I'd chain-smoked five fags, covered the bed and surrounding floor with towels, blocked out every bit of natural daylight and dragged the wardrobe against the door, obviously.
Like its rivals - the Nexus Vibro and the Aneros – the Rude Boy is designed to get at the prostate gland (otherwise known as the Male G-Spot or Love Walnut) and give it a proper milking. Not only does that help deliver fresh oxygen and nutrients to the prostate, it also – according to mates who have dabbled - has the potential to provide the kind of orgasms that produce home-made instant
Artex ceilings
, as it also stimulates the perineum (otherwise known as the Barse, the 'Taint, the Smelly Bridge, etc). And, as it says on the packaging, it vibrates as well.
Crikey
.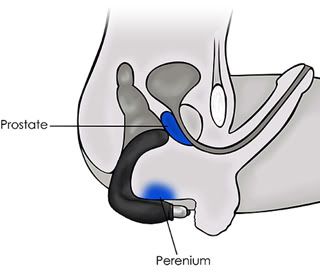 Looks like:
Nothing like a cock. If your mate came across it, and he didn't know any better, there's a very decent chance that you'd be able to pass it off as some kind of towing hook you bought from Halfords. It's made of strong yet pliable silicone, with an
alarmingly
thick girth, if you ask a novice like me. Not too keen on the blueness of the one I got – shame they didn't keep the
2-Tone
theme going and make it chequered.
Instruction sample:
"Note: the anal canal is usually very clean as faeces is not stored in this area, but up further in the rectum or bowel. It would help for comfort if your bowels are empty, and this should be done at least half an hour before using your prostate massager"
You will also need:
lube (lots of it), a towel (unless you actually want your bedsheets to look as if Eazy-E has dried his hair on them), tissues, and – if it's your first go – a considerable chunk of spare time and maybe even a book. It takes a
lot
of getting used to.
Feels like:
Well
. Getting it in first time takes ages – every millimetre feels like an inch, and for the first few minutes, you can't do anything but fight to relax yourself – which isn't too easy when, every time it slips out even slightly, you feel like you're about to shit the bed. Then, as soon as you do relax, you instinctively clench your cheeks and
Ooer
– the nubby bits at the base push into your perineum and you finally realise there's a lot more to your sexual organs than the gristly bits that hang out the front.
When you finally summon up the courage to press the button at the end, the vibrations are surprisingly relaxing and non-filling-loosening. From there, you're free to do whatever you need to do to de-spunk yourself; some men can achieve orgasm by merely leaving it in and clenching, while others go about their business in the time-honoured manner. It may not work for you first time, but when it does, you probably won't have had an orgasm that intense since you were 14 and you thought your genitals were going to explode.
Partner Compatibility:
Surprisingly high, as long as your missus doesn't launch herself onto you. Getting a blow job while it's in would be pretty decent. I just wanted someone there to hold my hand and mop my brow, though.
Clean-up:
Naturally, it's not the kind of thing you want to leave under your pillow at night and forget about. Slipping a condom over it takes care of a lot of faff, but apart from the odd spot, cleaning it up is not as rank as you'd think. You always could chuck it in the dishwasher, but that's pretty minging, isn't it?
Pros:
It's a genuinely new experience for a lot of men, focusing attention on parts of your body you'd forgotten you had…
Cons:
…as long as you can overcome a lifetime of ringpiece-phobia.
Rude Boy Double P Spot Stimulator
, £39.95, kindly provided by
sextoys.co.uk