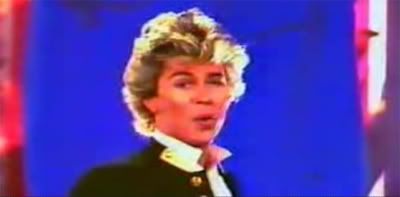 Blinkin'
Flip!
It's only bleddy well
Friday
, in't it? So that means...
Ladies: If there's ever been anything about men you've wanted to know but were afraid to ask, or wanted a male viewpoint on a certain relationship niggle you're going through, drop an email to us at todger dot talk at googlemail dot com. Every week, we shall pick one out and answer it to the best of our capabilities.

Gentlemen: We would very much appreciate your input, so the comments section of each Something For The Ladies post will be yours and yours alone for 24 hours. In other words, all female comments will be deleted. Sorry ladies, but in this case we'd be very grateful if you'd hush those sweet keystrokes and let the chaps have their say. Just for today, though.

This week's question...

Virtually every other woman who e-mailed Todger Talk wrote words to the effect of: I am aware that this can be a controversial issue, but I'd like to hear your male readers' opinion on female pubic hair etiquette. Personally I like a trimmed-down, triangle cut, and cannot stand the Hollywood (100% shaved/waxed off) for three reasons: 1. painful when waxed off (just try it boys, I'm not kidding); 2. itchy, uncomfortable re-growth; 3. (and this for me is the cruncher) it smacks of paedophilia. This last point it's because it seems to me that, traditionally, a completely hairless woman is a girl who hasn't yet fully developed; women have hair, deal with it! Some have more, some have less (I am a Mediterranean woman and we usually have more). I have met men who, at least theoretically, would refuse to have sex with a woman if she has any pubic hair, what is up with that?
'Mr Sex' says: Sam's away at the moment, but I can handle this one myself.
First off, I cannot overstate the influence of Porn on modern-day male sexuality. I could visit all your houses, put a brick through your window, climb in, and spray-paint 'THE INFLUENCE OF PORN ON MODERN-DAY MALE SEXUALITY IS DEAD, DEAD, DEAD IMPORTANT' in red on your living-room wall, and I would still be understating the case. Put it this way; when you're 12 or 13, you want to know everything there is to know about sex. School won't tell you: all they bang on about is periods and puberty. Your parents won't tell you: more often than not, they're just as embarrassed and awkward discussing it as you are.
When you get older, and have a bit of a dabble, you're still not sure that you're doing it right. Your mates won't tell you: they know as little as you do, or they're bullshitting. Other women won't tell you, for obvious reasons. Your girlfriend might tell you what she got up to with previous partners, but you won't want to hear it. So the only place men can gravitate to – the only place that offers any kind of indication of what you should be doing and what you should be attracted to - is the wank mag, the grot video, and (nowadays) the porn site. Back in the 80s, baldie-bitted women were a niche market (Shaven Ravers, anyone?). Nowadays, the average female pubeage you saw then is now the niche itself.
Put simply: when you're that age, and you see some bloke whipping it out and ejaculating on some girl's face without asking – and she appears to be enjoying it – you assume that that's what couples do (and boy, are you in for a surprise). More importantly, when you're sexually excited by pretty much anything, and virtually all the women you actually see naked are sporting the tuppenny all-off, that's what you're going to be into and hope for from any women you end up with in the future. That's not to say that all men are brain-dead knuckle-draggers being lead about by the cock by a cartel of mad bastards from California, but when you see something often enough, it becomes the norm.
(Conversely, I'm not dissing the tuppenny all-off either; it's very popular with certain women, for reasons that they'll no doubt go into in the comment section better than I ever could.. My last five sexual partners either shaved it all off, or left the merest wisp, and none of them were particularly gormless; they chose to cop off with me, for example)
So what do men really like when it comes to pubic topiary? Speaking for myself, I prefer neat and tidy; I like women to look like women, but I don't want to feel like I'm snogging my old geography teacher when I'm going down. But then again, this is one subject where you just can't pigeonhole every straight man in the world. Some men prefer the Hollywood for various reasons (and yes, it can't be denied that the dodgy 'innocent' element is a part of it for some); to be honest, some of us are a bit intimidated by a hairy fanny as it's associated with uncleanliness, particularly when it comes to oral sex.
(Fact: everybody assumes that 'Down Down' by Status Quo is an oral sex song, but when Rick Parfitt was asked about it in a recent-ish interview, he said "Oh, God no. No-one ever did that. People weren't very hygienic down there in the 70s")
Meanwhile, some men love the full-on 70s bush (i.e., the normal untrimmed fanny), because, well, they just do. And that's what women have looked like for the past 4,000 years or so. And then you have men who like the compromise; either the Brazilian (or 'Badger' or 'Landing Strip'), or even mad shit like love hearts, diamonds, or whatever. We like to think that you've done it for us, even if you haven't. At the end of the day, however, it's your lady-garden, and you cultivate it in whatever way you like. We're just glad to be allowed access to it.
(Oh, and a quick word about the men you've met who wouldn't go there unless it was Hollywood; absolute lying bell-ends not worth the steam off your piss)
Gentleman of Todger Talk; what's your preference?