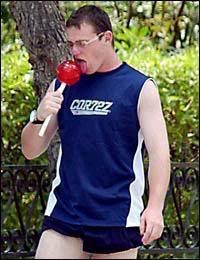 Ooer, is it Friday already? Better cut and paste that bit of text that says...


Ladies: If there's ever been anything about men you've wanted to know but were afraid to ask, or wanted a male viewpoint on a certain relationship niggle you're going through, drop an email to us at

todger

dot talk at

googlemail

dot com

. Every week, we shall pick one out and answer it to the best of our capabilities.

Gentlemen: We would very much appreciate your input, so the comments section of each Something For The Ladies post will be yours and yours alone for 24 hours. In other words, all female comments will be deleted. Sorry ladies, but in this case we'd be very grateful if you'd hush those sweet keystrokes and let the chaps have their say. Just for today, though.

This week's question...


'C' writes:
What do you make of a man who after a whole bout of (gah, arrhythmic
) sex refuses to cum inside you, instead masturbating to finish himself off, even though he's wearing a condom (asides from vaguely insulting)?


'Mr Sex' says:
Bleddy 'ell fire, we've got a right question here. I'll put aside the non-metronomic portion he's giving you (quick hint: get on top and control the strokes), and address the other two issues, as I've been dying to for ages. You have no idea what a can of worms you've opened here.
First off, you are not alone. More and more men seem to be in favour of whipping it out at the point of no return these days, and there's a few reasons for that.

The most obvious one is because Porn keeps telling them to (it's got so repetitive now that scenes where men actually ejaculate
inside
their partners are seen as a bit niche, and scientists predict that there'll be no children walking the earth by 2080 because men will have forgotten where they're actually supposed to lose their mess for procreational purposes).
It goes a bit deeper than that, though.

The reason a lot of men do it is because a hand-shandy finale not only helps prolong the moment before we tip over the point of no return, but because we also know how to get the most from our all-too-brief (compared to the female version) orgasm. When we're about to shoot our bolt, a lot of us want as much control and as little pressure around the penis as possible, and Missionary or Cowboy can't provide either (it's one of the reasons why men love doggy-style, by the way - doesn't feel as tight, and we're in full control of our strokes).


So the fact that he's doing this with a johnny on (known in the trade as a Posh Wank) is rather defeating the object. Either he's extraordinarily terrified of getting you pregnant, fastidiously tidy and worried about getting it on the sheets, or - as I suspect - he's desperately keen to take the damn thing off and throw his stringy web of love on some part of your body, but afraid to ask. Obviously, you're feeling very left out by all this, so if you're keen, offer to take the condom off and give him a hand, telling him what you'd like him to aim for.
Sam says:
Well to put it bluntly, this guy sounds like a wanker. He's self centred and not interested in the sex you are both having, just the sex he is having. Also that's a bit weird and creepy, not to mention really disconnected.
If he was a cracking and considerate lover up to this point, then you might have something to work with, but you don't so I suggest:

a) you dump him and get someone better in bed – people don't change unless they have a drastic reason to do so. Otherwise you are going to keep getting disappointed on this front.

b) use mirroring to show him how it feels. There is no point arguing about this stuff, better to demonstrate by example. Next time you have sex, break it off before he is done, and finish yourself off with a rabbit. See how he likes it. Either it will hit home the point, or he will really like it, so you may like to revert to option a).

c) take Al's advice and try and work with what is probably his porn-induced brainwashing.

Gentlemen of Todger Talk, what's your advice to this disgruntled lady?