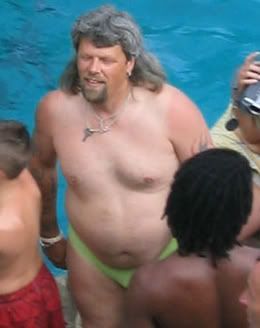 Sod Good Friday. We might be a bit late every now and then, but we

never

stop bringing the sex chat. So...


Ladies: If there's ever been anything about men you've wanted to know but were afraid to ask, or wanted a male viewpoint on a certain relationship niggle you're going through, drop an email to us at

todger

dot talk at

googlemail

dot com

. Every week, we shall pick one out and answer it to the best of our capabilities.

Gentlemen: We would very much appreciate your input, so the comments section of each Something For The Ladies post will be yours and yours alone for 24 hours. In other words, all female comments will be deleted. Sorry ladies, but in this case we'd be very grateful if you'd hush those sweet keystrokes and let the chaps have their say. Just for today, though.

This week's question...
Anonymous writes:

Perhaps you can help me understand and change a particular dynamic in my current intimate relationship. To put it simply, my boyfriend seems to zone out during sex. We have plenty of it, and invariably starts out hot and dirty.... and then fades to lukewarm and perhaps just a little untidy. To be more specific, when the sex is at the point where I am trying to climax, and I need my boyfriend's attention more urgently, it seems he chooses exactly that interval to prop his hands behind his head and wait for me to finish. I frequently grab his hands and place them somewhere more interesting, or ask him to give me a few smacks on the bum, anything besides simply lying there. And men complain about women being corpse-like!





This is only ever a problem in this circumstance, i.e. when I'm on top, trying to come. In any other position or time, the pace and intensity are how I like it and want it, but frankly, I think it's weird for him to keep zoning out at my critical moment. Much as I keep articulating my desire for him to be a little more proactive, both through words and actions, it doesn't seem to help. Why does this happen, and how can I get him to keep up the pace? Is this just another case of a guy thinking his hard-on will suffice?





'Mr Sex' says:

Without trying to state the obvious, your sex life (or at least a critical bit of it) is in a, ahem, rut. Let me look at this through his eyes. So he's obviously up for making you come first;

good.

You've both found a position that allows you to do that through penetrative sex;

good.

He now thinks all he has to do is to provide a bonk-on and allow you to grind away at it for a bit;
bad.

I don't know how long you've been seeing each other, but a lot of couples make the same mistake. They go through a period of experimentation at first when they set aside time for non-stop hows-your-father, then they find the position they like best. Then they keep doing it again and again, rather like a spoilt child who demands the same dinner every night, which they eat in the same way.

At the moment, your bloke is behaving like a right dildo. Literally. Sounds to me like he's taking a short rest period so you can get your orgasm out of the way as soon as poss, which is a rubbish way to go about things. The best way to snap him out of it could be to break the mould and do something completely out of character - like uncoupling yourself, placing your knees around his shoulders and masturbating in front of his face. Or turning round and doing reverse cowgirl (so at least you won't have to see him lolling about like a sack o' taters). Or simply pointing out that this position ain't doing it anymore, and he needs to get off his arse and put some bastard work in.