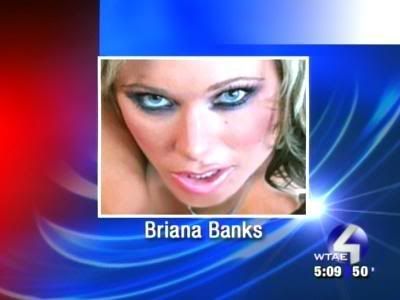 Oh my God. Deep breath. Here we go.

A few years ago, this casting of porn-star minge (with a bonus bum-hole thrown in absolutely free!) would have been the absolute top-of-the-range in blacked-out grot-shops across the land. Whenever you were old and stupid enough to dare to go into Sven Books or Private (or - as was the style in those days - be pushed in by your mates, who then ran off pissing themselves laughing as you lay on the floor in a crumpled heap of embarassment), you'd look at it and grimace (while, at the same time, wondering what it would actually feel like). I mean, just look at the blurb they come out with. They're promising the bloody bleeding Moon on a stick;

Briana Banks has finally allowed her beautiful body to be perfectly cloned in UR3™ realistic FLESH, and built to handle rigorous sexual activity!
How do we know this? Do people actually buy this, take it home, and hold it up to the telly while they watch a porn film and make a comparison? Don't get me wrong, it's a frighteningly detailed facsimile, but this could be anyone's fanny. For all I know, there could be some poor cow at the factory who gets called in every other month to imitate porno flange.

I think we should be told

.

Slather your erection with the FREE lube,
Ooer. I've seen a penis being 'slathered' before. It was in

The Singing Detective.

His nob was being 'slathered' for one simple reason -

because it had the same texture as them cornflake cakes kids make in junior school.




then thrust into both of her tight openings- you won't know she's not real!

Unless you're observant enough to notice she hasn't got any legs, arms, head, or anything else.


For exxxtra thrills, she comes equipped with an insertable vibrating egg with 5 functions and 10 arousing speeds.
Notice that? THREE X's, because EVERYTHING is SEXIER - sorry, SEXXXIER - when you put three X's in! Next year, don't file a boring tax return - do a

taxxx return

instead. Constipated? Try Exxx-Laxxx! Even Exxxeter and Halifaxxx suddenly sound alluring and erotic all of a sudden.


But anyway. One thing you can't say about Briana's Vibrating Fanny and Ringpiece is that it's not elaborate; yes, aside from the slab of orifices, there's a little bullet vibrator that you shove right down a hole cut into the top of the torso, a remote control that goes right up to about 4.5 on the Richter Scale, a bottle of Briana's favourite lube (and judging by the amount of DVDs she's made, it must be so thick and slippery that I'm surprised they managed to actually get it into a container), and an archaic talc pump-dispenser thing that looks like something you'd find in Chitty Chitty Bang Bang's boot.

You will also need:

more lube, as you'll easily do the entire sample in one go, and every single lock in your house changed. You'll want a 50-foot exclusion zone around your bedroom, trust me.





Instruction sample: "Do not rub or lay against sharp objects, abrasives, or other rubber products"
Looks like: This (warning; it's a big photo of a minge).

Feels like: Having sex with a dismembered body part. Sort of vaguely real, if you discount a) the fact that you have to slap a huge dollop of lube on, b) it's freezing cold, c) you have to spend ages and use every pillow in the house to sort a decent angle out, and d) you can't shake the feeling that you shouldn't really be doing this. Both the fanny and the arse are complete mouse's earholes, the fact that it's pretty flat means you can quite easily put your back out, and by the end of it there's so much lube flying about that your pillows look as if Five Star have been kipping over for the night. I lasted ten minutes on this before I gave up, a broken, defeated husk of a man.


Clean-up: A simple matter of getting it under the tap. Well, when I say 'simple', I mean ' you stand there for fucking ages trying to get the water to go in the hole with your foot firmly wedged against the bathroom door, get pissed off, seal the hole around the tap, and then get your shirt sprayed to fuck with jizzy water shooting out of a rubber arsehole'.

Partner Compatibility: Well, you could act out an elaborate role-play where you come home early from a night out to find him fucking a slab of what appears to be something out of a butcher's shop window, and then run crying to your mates, I suppose.

Pros: If you had tunnel vision and could block out everything else in the world, it looks like the real thing. Even better, you can hold it under your dressing gown in the morning and walk about in front of your mate's girlfriend, 'accidentally' letting it billow open and watching her shoot tea out of nose.

Cons: No legs curled round your back, no arse-cheeks to caress, no fingernails in your arms, no eyes to look deeply into, no-one to tell you they love you.


Briana Banks Vibrating Pussy and Ass, £174.95 or so, kindly provided by http://www.sextoys.co.uk/, though they don't sell it anymore.

Adapted from Boy's Toys, Scarlet magazine (March issue) –

www.ScarletMagazine.co.uk